The author's words,  Exercises 8 – 18, pp. 15-29
Please purchase the workbook for maximum use.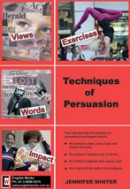 Special Price: Techniques of Persuasion: $14.95 (incl. postage)
Exercise 8: Colloquial language:  A new Lingo
1. The use of informal words: cool dude;
2. The use of "like" an informal discourse particle.
3. The use of contractions and assimilation (blend of two words); didna; you gotta be kidding
4. The suggested use of swear words: f—; bum.
Ms Piper seeks to entertain but also sets out to mock (or deride) teenagers. She tells a real-life story about her experience with teenagers on the train. She depicts teenagers as semi-literate and impolite; they appear indifferent and rude to other people.
Exercise 9: Questions, p. 16
Stop the hoons
Why are these kids driving V6 and rotary cars with only a minimum of driving experience?:  (interrogative sentence).
Pete Peevish, Chelsea
The game to win
Can you believe that parents actually let their children play those arcade games when they go to the hotel? (rhetorical sentence)
But if the parents don't mind and the children enjoy it, does it really matter? (interrogative sentence)
Who should take responsibility: the government, the hotel owners or the parents? (interrogative sentence)
Catherine Macher, Churnside
Exercises 9 and 10: For further sentence practice
Exercise 10: Cleaning up graffiti (p. 17)
1. This is a parallel phrase (to reinforce the modal expression "might"). These phrases reinforce the point that even if graffiti does look like art it wastes taxpayers' funds.
2. These phrases reinforce the amount of money that is spent by the different shires.
3. The writer lists the alternative projects that require taxpayers' finds. These would lead to greater benefits.
2. Descriptions of John, p. 19
John is careful with his money because he knows that it is difficult to save. He values his money and refuses to be wasteful and lavish. He disagrees with the proverb, "penny wise and pound foolish". In this sense he is pound wise and penny foolish. He also gives a whole new meaning to the fact that money should never burn a hole in your pocket. He values every cent!
John is so careful with his money that he only spends it on himself. He is close-fisted, and only opens his fist when he needs something. He drives a hard bargain and ensures that he always gets the upper hand. One could say that he is a miser as well as a skinflint, but some might say that is too kind.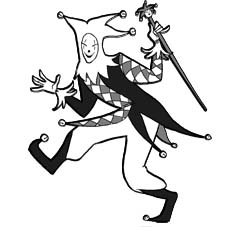 3. Different meanings, p. 19
Poker machines are "grooming" young children
i. To groom means to prepare; to tend carefully as to person or dress; to make neat or tidy
ii. It also means that they are manipulating children and making sure that they like to use the poker machines.
People who walk to school are "greenies"
i. "Greenie" refers to the colour green.
ii. These days, "greenie" refers to people who care for the environment.
In the past, greenie referred to people who were young, innocent and naïve.
Exercise 12: Inclusive language (p. 20)
1 "we hopped on our bikes" : people in the community
"it's good for our health": "our" refers to people in general
2 "we" replaced plastic bags; cut down trees: people in general
"we" will better care for our environment: the pronoun "we" reaches out to all people in the community and encourages them to be caring and cooperative.
1. Staff often have families to support.
2. A manager must have a good sense of themselves.
3. The best person for the job.
(The original phrases presume that staff and managers are men.)
4. Hysterical and angry men and women. Hysterical is a negative word, whereas "angry" is neutral.
5. To staff the front desk.
Exercise 13: Exclusive language, (p. 21)
1. The word "ape" is offensive because it implies that in this case indigenous people are uncivilised or act like animals or savages. It has racial implications.
2. The term "black monkey" distinguishes between people based on the colour of their skin.
3. The phrase is offensive because it is stereotyping Indian people as "cab" drivers; it implies that they are low status and have little education.
4. The phrase is exclusive and offensive; it expresses hatred of Japanese people who were the victims of the Hiroshoma bomb.
5. Mr Sattler is using exclusive and homophobic terms; he is stereotyping all hairdressers as "gay".
6. The stubby holder is exclusive because it is setting up refugees for ridicule who flee persecution and who do not have visa papers. The picture of the mudfish is a derogatory and refers to Sudanese refugee. Together with the caption, the message is that it is not pleasant working in Sunshine because there are too many African refugees.
Exercise 14: Your Turn: Free gawking (p. 22)
1. Troy believes that the owner of the Tree House has every right to insist on an exclusively same-sex club. This is because people come to stare at and mock them. He also believes that people are more comfortable among those of their own group who have similar views, values, behaviour and attitudes.
2. i. people come to "gawk and guffaw"
ii. We can escape the insults of the "tuff guys"
iii. "Go look at the city." and "Go gawk at them."
3. "For us regulars, it is obvious that people come to stare at and mock us. Some people call us offensive names such as "fags" and they spit at us. … We can escape from the stares and the insults from those men who want to show a lot of bravado. … Please investigate the groups in the city. Most cultural groups conform to their own rules…"
Exercise 15: word play (p. 24)
State whether the figure of speech is a cliché, metaphor, simile or personification.
The bushfire left the devastated areas looking like a war zone. (simile)
The sound of the fire was like "hundreds of 747s taking off" (simile); the experience
was "like a nuclear holocaust" (simile)
The firefighters were standing before the gates of hell. (metaphor)
During the firestorm everyone was in the same boat (cliché)
The embers, flying like a plague of shining insects, (simile) trapped the survivors. Secretly,
these tiny embers hunted for the survivors through every crack in their house (personification)
Although he was as strong as an ox, (simile) he was helpless in the face of such glowing demons. (personification)
In coming days, the adrenalin surge will end but at the moment adrenalin is his friend. (personification) The firestorm has stolen his identity. (personification)
Exercise 16: Rhyming words (p. 25)
1. assonance
2. assonance – Mary and contrary; alliteration – Mother and Mary
3. assonance
4. assonance
5. assonance
6. alliteration
Exercise 18: Some schools fail the test (p. 27)
1. What is the sentence pattern and tone? (p 14)
Complex sentence: logical, reasonable, informative
2. What type of question is it and what is the tone? P. 16
Interrogative sentence; provocative; challenging, reflective, considered.
3. Find a listing technique and state its purpose.
"It leaves both mental and physical scars; it shatters a person's self-confidence; it wrecks their positive experience of school life and they lose interest in their studies.": mostly simple sentences, "It": emphasis on bullying.
The listing technique is used to show the extent of the damage which is severe.
Bullying:
• leaves both mental and physical scars
• shatters a personal's self confidence
• wrecks their positive experience of school life
4. Underline two simple sentences and describe their tone.
"Bullies must take responsibility for their shameful actions": assertive, adamant, dogmatic; blunt, terse.
"This should alarm responsible members of the community." : stern; forthright; strict.
5. Underline two modal verbs and describe their tone. (See p. 10.)
Modal verbs
• Bullies must take responsibility for their actions: imperative; authoritative; commanding.
• The way they control bullying should define whether that school is good or bad: adamant; dogmatic; judgemental; high-minded.
6. Is the editorial formal or informal? (See p. 14.) Give reasons.
Formal
The editorial uses:
• Standard Australian English.
• correct grammar and punctuation.
• a variety of sentence structures
• respectful language
• third person (not the first person pronoun).
Please purchase the workbook for maximum use. Options for use: Please click here if you would like to buy an immediate PDF version. This PDF version of the workbook includes all the exercises that you will need so that you can follow these extension activities and suggested responses.

Return to Red Workbook Tasks: overview