Area Study 2: Analysing and presenting arguments
Incorporating an "argument" as well as a language focus:
Please refer to Exercise 29, pp 72-73 "Making a difference", by Jane Achton
In her Seashells article, Ms Achton draws upon her 30-year professional experience as an educator to highlight the fact that social justice often begins with small initiatives.  The author uses a combination of examples which all show that people can make a difference by foregrounding principles such as care and concern for others and for the world in which they live. Specifically, she sets up an analogy between the figurative "cat lady" in "All the Cats in the World"  and Meg Smith, the retired teacher to show that both had the courage to pursue their moral convictions. The cat lady withstood considerable "taunting and criticism" to "care for several stray kittens down by the beach"– a description that would certainly resonate with all concerned animal lovers.  Likewise, Meg  Smith makes a "big difference" by bringing "cheap energy to some of the poorest people in the world" through social networking sites. Serving power to up to 20,000 people in Bangalore  specifically highlights her considerable achievements and once again this endearing depiction is likely to inspire others. Both these examples reinforce Ms Achton's and Desmond Tutu's view that those who perform good deeds can "overwhelm the world". This acts as a call to action for all readers.
Student Sample Paragraph: (VCA 2012 English Exam: Section C)
Before (C+ Essay)
One of the techniques used by Elliot to persuade the target audience is the development of herself as a writer.   From the very first line  Elliot confirms that she has always been an 'early adopter'; a person who doesn't shy away from change.    Her entire introduction speaks about the benefits of technology and through her use of anecdotal evidence, where she mentions that she 'rushed out to buy an e-reading device.' Elliot displays her eagerness to adopt technology and to incorporate it into modern society.  By opting for such personal evidence which speaks about!!  the human experience , Elliot attempts to gain the audience's attention as it !! has a certain element of plausibility as well as ensure that she does not depict herself as a narrow minded conservative librarian, stuck in the previous generation.   Elliot enforces this image of herself as she continues to list the many benefits of incorporating education and technology : the ability to look up definitions just by clicking a word, a freedom children will experience as they go to school 'without the terrible burden of their great big textbooks' and the personal element that is maintained in e-books (for example one can still change the brightness and font size, making the experience still a personal one.)
After (A+ Essay)
In order to earn the trust of her mainly young adult audience, Mrs Elliott, candidly and enthusiastically, reveals that she is an "early adopter" of technology. Merging both her personal and professional voice, the librarian recommends technology as an important change agent. She makes historical comparisons with the Gutenberg printing press to show her open-minded and embracing attitude  towards innovation and progress. This confession is an important tactic and seeks to overcome any scepticism among her largely young-adult audience who, she knows, are likely to embrace new technologies.  The fact that she was hopeful that e-books would be the perfect panacea enabling students to rid themselves of the "burden" of textbooks, further reinforces her trust.  The graphic image of the young smiling boy who effortlessly uses the e-reading device is used during her presentation to show her lack of bias. The young boy leans against a mounting pile of books in order to reinforce the view that the device is more convenient and accessible.
NB: Notice the analytical sentences that embed the metalanguage and focus on purpose and not summary.  Work through our exercises/and responses. Become confident using our suggested tone words and sentences.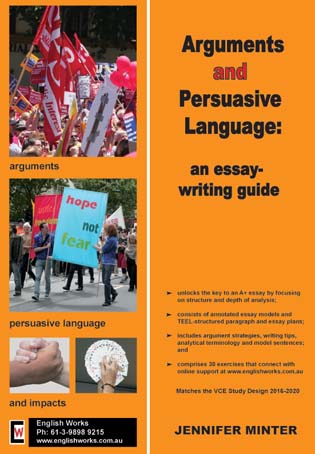 Workbook and Online Study page
Return to Arguments and Persuasive Language : an essay-writing guide: Suggested Responses
VCE Students; Keeping up-to-date and ahead: unlock the key to an A+ essay.