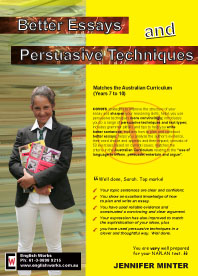 Please purchase Better Essays and Persuasive Techniques in order to access the Free Online Study Exercise Program: Buy Now: $24.95.
Chapter 3: Persuasive Strategies
Exercise 21: Animal testing, p. 57
Mr Adams appeals to the emotions of his audience by referring to an imagined hypothetical story of the 12-year old boy who has suffered so much from cancer that he has changed into an old man. Mr Adams encourages the audience to place themselves in the position of this 12 year old person in order to feel his pain including the loss of weight and hair. The reference to young children with cancer is likely to arouse sympathy among members of the audience.
Mr Adams refers to Professor James McCluskey who contends that cures are possible only because of testing on animals. The audience is likely to support such a cure even if it means testing on animals.  Many would feel heartless if they disapprove of the tests because they would feel that they are denying children and teenagers the chance to lead a healthy life.
Jan defends the animals. Jan also appeals to emotions by listing the harmful consequences for animals. Specifically, she refers to the Draize rabbit and encourages us to sympathise with its pain. She uses emotive language to show that animals generally die as a result of testing.
The target groups:
Jeremy Adams: parents and children as well as scientists and policy makers.
Jan: animal lovers, scientists and policy makers.
The cartoonist reinforces Jan's views and seeks to personalise the rabbits to show their thoughts and feelings. Rabbits are personalised, which makes us feel that they are affected by harmful treatments.
Further Tasks
Write sentences explaining the persuasive techniques used by Mr Adams.
Drawing upon your analysis of the author's persuasive and reasoning skills, write your point-of-view essay either supporting or condemning animal testing
Task 1
Mr Adams starts with an anecdotal hypothetical scenario focusing on the pain of a young boy. The young boy's life is transformed within 2 years owing to extensive use of chemotherapy. This story seeks to elicit sympathy from the audience.
Mr Adams also appeals to common sense and reason: that the animals are necessary
Professor James McCluskey states that the animal testing is critical to a cure for diseases. Often such tests are the only means of keeping hope alive.  He seeks to reassure members of the audience that such tests are necessary.
Jan appeals to sympathy, shock and horror. She also appeals to morals by implying that the tests amount to cruelty.  Jan also appeals to animal rights.
Jan disapproves of animal testing because it leads to insufferable pain.   She focuses on the pain of animals such as rabbits who are subjected to a variety of tests, often just for chemical purposes.  She uses words such as "burned, poisoned, blinded and starved" to suggest that the tests amount to cruelty.
She uses the case study of the Draize rabbit eye test:  this gives a specific example of their pain. It also shows that the author is well-informed about the nature of testing.
She continues to elicit sympathy and shock and horror by concluding that the animals are usually on death row.
Task 2 :
Use your persuasive and reasoning skills to write your point-of-view essay in support of animal testing
1.  Write an Introduction
2. Paragraph 1/Topic sentence: It is necessary to conduct tests on animals in order to find necessary cures for fatal diseases.  (In many cases, it is the only chance of  a cure)  People's rights are more important than an animal's.
3.  Rebuttal:  Those who oppose animal testing, and particularly animal lovers, suggest that the tests lead to insufferable pain and cruelty. They say that many tests are unnecessary especially those with a chemical or pharmaceutical nature. (However, there are guidelines that do ensure the researchers respect animal's rights).
4.  Write a conclusion
Continue your Better Essays Learning Journey
For Extension Activities: See Exercise 21, Animal testing, p. 57
Return to the Better Essays Home Page