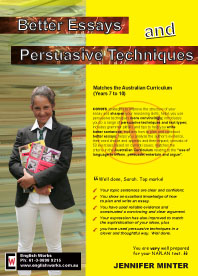 Please purchase Better Essays and Persuasive Techniques in order to access the Free Online Study Exercise Program: Buy Now: $24.95.
i. The author attacks (discredits) parents' intelligence and questions their knowledge. Mr Treeton implies that parents are ignorant and do not heed the warnings. They seem unaware of the fact that if they smoke in the presence of their young children they will harm their health.
ii. The author attacks parents' moral compass. Mr Treeton infers that they do not take sufficient care of their children's health and should be ashamed of themselves.
iii. Mr Treeton also makes harmful remarks about their character such as their selfishness and double standards. He questions their motives and suggests that they prioritise their own interests above their children's. They pretend that they do not know that they are harming their family's health. They also become a burden on the health system and waste taxpayers' funds.
2. Ms Fit attacks the police (and hence the Government) by trivialising the issue and stating that it is simply a matter of individual liberties. She believes that the Government just wants to interfere unnecessarily in people's lifestyles.
Describe Ms Fit's tone: accusatory; flabbergasted; outraged and sarcastic: "Have the police got so much free time …"  Ms Fit's tone is one of outrage and dismay. She is indignant that the police are intruding into the privacy of a person's home.
She makes appeals to civil liberties and individual freedoms.
Taking it further: Mr Treeton's key arguments:
Parents who smoke in the home may be harming children's health. Some children are getting asthma.
Parents who smoke are a burden to the health system.
Parents are often conveniently ignorant of the consequences of their smoking habits.
Mr Treeton's persuasive techniques:
Mr Treeton starts with an anecdote about Sabina to show the very severe consequences of a smoking parents.
Mr Treeton also uses statistics, such as the 48,000 hospitalised children to show the consequences of smoking and to show the burden on our health system.
Mr Treeton appeals to parents to show greater responsibility to their children. He believes they should role-model healthy behaviour.
Mr Treeton uses an analogy/ comparisons with other building regulations.  He justifies suggested new regulations about smoking through comparison with other rules.
Other appeals: appeals to common good/public health/ appeal to leadership/parental authority.
Ms Fit suggests that people should have the option to do what they like in their homes. She appeals to people's freedom and civil liberties: people should have the right to exercise their freedom of choice.   She believes that the police should not interfere with what people are doing in their own home. "have they got so much free time"; this statement implies that the police are not doing their duties properly or are not correctly prioritising their tasks.        (She makes appeals to civil liberties)
Taking it further: Use similar reasoning and persuasive strategies to write your own point of view essay.
Topic: The government must implement smoking bans in the home.
Write an introduction
Paragraph 1: Topic sentence: In order to protect children's health, the government must implement an immediate ban on smoking in residences. Samantha Z is one of 48,000 children who are hospitalised daily as a direct result of their parent's smoking habits. Such examples are increasing because of parents' ignorance or foolhardiness. As Mr S Chapman says…  (explain/quotes/expert/anecdote).
Paragraph 2: Topic sentence: Such parents and their families are an unnecessary burden on the health system. Because of their ignorance or selfishness, taxpayers are expected to fund expensive medical support whenever family members are hospitalised as a result of passive smoking.
Rebuttal:   Contrastingly, many smoking parents believe that they should have the right to make choices in their home. They say this is about their civil liberties and that smoking is legal.   However, this is a misguided attitude and overlooks the role governments do play in making sure that places are safe. There is a precedence for intrusive policies such as fire and smoke alarms. (Use the analogy with other building codes/regulations to counter the opponent's argument.)
Write a conclusion
Continue your Better Essays Learning Journey
Return to the Better Essays Home Page