For maximum benefit, please purchase Become an Expert to access our free Online Study Program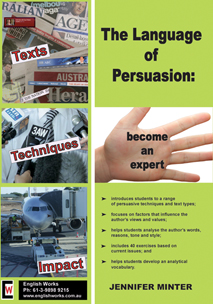 Exercises 32 and 33, p. 58-9;
Exercise 36:  Remember me?  (p. 63)
In a solicitous and conversational tone, Sam Trimbone presents himself as former school student in order to gain the attention and trust of his student-audience.
He uses personal references to capture the students' attention and to provide shared experiences,  expecting that they will heed his advice about social media. His main point is that social media is a distraction.
Secondly, Sam offers his own first-hand experience to warn students about the dangers of social media. He builds trust by referencing the numerous social media sites that he, and his audience, presumably use on a regular basis.  Also most students can relate to the family problems which he cites as a consequence of his growing addiction.  The fact that he "was hooked" encourages the student-audience to trust his advice regarding the affect on one's studies and obsessive use may jeopardise school work and career paths.
Thirdly, his rhetorical question focuses the students' attention on shared experience, such as the Geography class. By tapping into the students' mindset about their typical computer habits, he seeks to outsmart the students by professing that they might think they are clever, but they are in fact, setting themselves up for failure. Subtly, he is attacking (discrediting/rebuking) members of his audience for their short-sighted approach to learning.
Fourthly, Sam offers a teacher's professional experience to show that teachers, too, are aware of the fact that many students waste time and do not learn efficiently using laptops. Once again, he subtly taps into shared experience with students to show that they are easily distracted and even lazy when it comes to their learning tasks.
Finally, Sam also refers to the psychologist's studies to alarm students about the consequences of becoming like butterflies who are trying to complete learning tasks in an inefficient manner. He uses a rhetorical question to highlight the fact that they might have ADD, a disease which would probably worry most students.  In a high-minded and concerned tone, Sam repeats the teacher's comment, "not getting up to much" to reinforce the fact that students are only letting themselves down and will pay a high price for their distractions.  Their social media addiction is counter-productive and students will compromise their hopes and goals if they do not become more purposeful with their studies.
See Range of Evidence and bias, pp, 4 – 7 and metalanguage, 78-80.
Taking it Further Activities: a range of techniques and two paragraph plans: See Lesson 6: Exercise 36, p. 63
See Also Exercise 39, Radio Interview: Camelcide, p. 69.
Return to Green Online Study Exercise Program