For maximum benefit, please purchase The Language of Persuasion: Become an Expert  to access our free Online Study Program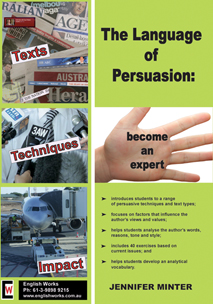 Exercise 40: Parents' watch, by Sue Buffers (p 71)
Idiomatic expression: "keep the wolf at bay" to show her sarcasm and disgust at Simon's eating habits.
Emotional appeal: Sue refers to the doctor's advice to state that he is in "danger of dying by the time he is 30."
Simile: Simon is treated "like a pet" you "wash, feed and pat". This is to show the extent of his dependency.
Anecdotal evidence: The story of Simon and his eating habits which has caused his enormous weight. In turn, his large unhealthy weight causes low self-esteem.
Attack: Sue attacks his mother because she does not provide a balanced diet. She also attacks the Minister, Tony Thring, because he relies too heavily on parents.
Derogatory words: the "fat kids". These words belittle the children who are large and show that there is a stigma attached to being overweight.
A listing technique: Sue lists the food that Simon eats as a typical snack. This shows the extent of his eating disorder. He obviously has a very poor diet.
A high-minded tone: she seeks to shame those parents who "do not care" and show that they lack responsibility. Some parents "haven't got a clue" and their ignorance is harming their children. For this reason, Simon's case is a "wake up call".
Turn your annotated notes into an essay
Exercise 41: Child abuse or bad parenting? By Sue Buffers p. 71   
Introduction: Many healthy officials and community spokespeople are becoming alarmed at the increase in obesity among young children. Sue's blog that appeared on the Parents' Watch website typically outlines the views of those in the community who believe that parents are guilty of committing child abuse if their young children are obese. By referring to real-life examples, Sue elicits sympathy for the victims, and, accordingly, encourages her readership to pressure the Government to hold such parents to account. Her forceful and adamant tone and characterisation of the young boy are designed to isolate such parents for their shameful lack of duty of care.
Paragraph 1 p. 72
Sue uses anecdotal evidence to encourage readers to sympathise with overweight children whom she compares with "child abuse" victims. Using a colloquial style and an assertive tone, Sue seeks to connect with parents on a familiar level and expects them to realise that they are harming their children's health and psychological well-being by feeding them to excess. Sue introduces her views with a rhetorical question that encourages us to think about the health of many young children. Her tone of disbelief draws attention to the increase in the amount of overweight children which is personalised through the real-life example of a 10-year-old child in Britain. Sue lists examples of Simon's food to show the extent of his eating disorder and uses figurative language ("to keep the wolf at bay") to further reinforce his lack of control. Sue invites sympathy for Simon by presenting him as the victim, or as one particular doctor stated, he is someone who is in danger of "dying by the age of 30". The commanding imperative sentence, "just think of what that mother is doing to his self-esteem!" provides a forceful reminder of his vulnerability. The derogatory language referring to "fat kids" helps readers appreciate the extent of his suffering.
Paragraph 2, p. 73
Sue use a variety of methods to evoke anger and to shame parents and the Minister who fail to set appropriate standards of care. The author's blunt tone in her simple statement ("it is child abuse") leaves parents in no doubt that she agrees with the action taken by the British authorities. She places the issue in a moral sphere when she draws attention to the criminal-like behaviour of parents and uses derisory language and stereotypes to compare the "fat kids" with victims of physical and sexual abuse. The fact that the British authorities are treating parents of obese children like criminals is bound to make some parents fearful. An example of her informal, dogmatic tone is when she idiomatically states that many parents "haven't got a clue". Sue uses a simile to compare Simon with a pet, which makes both the son and the mother look ridiculous. She states that he is "like a pet you wash, feed and pat" and then he "comes to lick you with appreciation" which shows the mother's foolhardiness. Her exclamatory statement, "God forbid!", sums up her disgust. Sue also criticises ministers like Tony Thring because they delegate too much responsibility to parents. As she sarcastically and bluntly states, using an idiomatic expression, "you have to think twice" about the way they have abrogated their duty of care. This suggests that he is inefficient and out of step.
Conclusion
Sue issues a "wake up" call to public health administrators, government officials and parents of obese children to take corrective action. By presenting the issue in emotional terms, she seeks to raise people's awareness about the severity of the "crime" and to show that it is widespread in our community. Her real-life example sadly shows that many parents are ignorant of the long-term consequences and so anticipates that parents will need to agitate for governments to make stricter regulations. The issue is likely to continue to attract inflamed views as people become increasingly dependent upon junk food.
Continue your Expert Study Journey
See Exercise 42: Just in time: Rugby tacklers by Scott Jeffery (p. 74)
Return to Green Online Study Program
If you wish to download the exercises for immediate use, please click here to access a PDF version. This consists of all exercises featured on this page.