For maximum benefit, please purchase Become an Expert + Online Study Program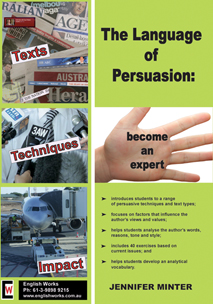 See Revision exercises: Exercise 27, p. 41. Shine Editorial Team
See Revision exercise: Exercise 26, Cyclists, p. 40
Exercise 24: Feeding toddlers (p. 38)
i. Use of personal experience: the author uses the personal pronoun, "I", to recount the "disgraceful scene" that she witnessed in a country town. Its use conveys a sense of candour and authenticity as she struggles to come to terms with her dismay at the father's heinous actions.  She seeks to earn the reader's trust by conveying the extent of her because concern for the young child who is given the "sugary muck".
(ii) Two methods of attack: use of harmful remarks and words that criticise his parenting ability. (See words on p. 80)
The proud "so-called father": The author decries the father's irresponsible behaviour. She uses a derisory term such as the proud "so-called" father to cast aspersions on the father's parenting ability. The quotation marks convey her sarcasm and enable the author to distance herself from the father and isolate him
The "silly father thought it was a hoot"/ "egging him on": The author deliberately employs a derogatory adjective and colloquial language to harm the father's reputation. Such words deprecate the father, draw attention to his irresponsibility and are designed to make readers feel indignant. The colloquial flavour — "thought it was a hoot" — enables the author to relate on a more casual level with readers
Metaphor (purpose): Figurative language + (negative) connotations + implications/purpose.  The author's figurative comparison with the clown carries negative connotations. Specifically, the father is depicted as a clown and his actions are described as a "circus stunt". This comparison suggests that the father is flippant and irresponsible and enjoys making fun of his son. (The father sets up the son for ridicule.) Referring to the father as a clown is an example of exclusive language, which seeks to isolate and shame him.
Appeal to morals and family values: Ms Keon suggests that he is a poor and shameful father who is harming his son's development. The author adopts the high moral ground by censuring the father's behaviour. She seeks to isolate and shame him, and encourages sensible people to share her concern.
If you wish to download the exercises for immediate use, please click here to access a PDF version. This consists of all exercises featured on this page.

Continue your Expert Study Journey