For maximum benefit, please purchase Become an Expert to access our free Online Study Program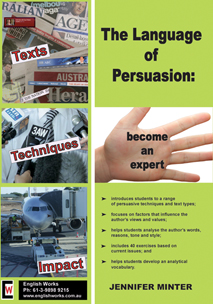 Appeal: fear. The author scares parents by suggesting that they will have disobedient and spoilt children if they do not smack them.
Appeal: the author makes a moral appeal. Mr Simon believes that parents who smack their children are acting correctly because they are teaching them the difference between right and wrong.
Appeal: the author appeals to duty of care/ authority. Mr Simon believes that parents should have the authority to discipline their children in the best way possible.
Appeal: individual rights. The author recognises that many people support children's rights and freedoms; they need to be free to explore their world and take risks.
Appeal: family values. The author believes that a smack helps parents build a sense of trust among family members. It also shows children that they do care, and that sometimes strong discipline is needed as the mark of loving parents.
Exercise 15, p. 22
Taking it Further: Exercise 15: The author's views, and persuasive/reasoning tactics
 Taking it Further: write two paragraphs of prose
Continue your Expert Online Learning Journey
If you wish to download the exercises for immediate use, please click here to access a PDF version. This consists of all exercises featured on this page.