For maximum benefit, please purchase Become an Expert + Online Study Program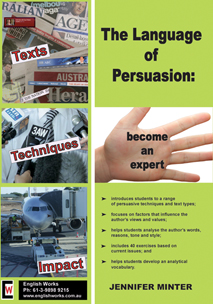 Exercise 18:  Remember her? Don't let it be you!  (p. 31)
What is the purpose of the advertorial (advertising editorial) and who is the audience? Comment on the author's degree of bias.
This is an advertising feature which means that the company has a vested interest in making sure that consumers use their product. Its purpose is to persuade parents to buy a Toddler Tag so that they can monitor their children constantly. As a result, this reduces the author's credibility and parents are less likely to trust the company. Presumably, they are using experts such as Professor Warwick to support their point of view.
What is the purpose of the photograph, the headline and the slogans?
The photograph aims for an emotional impact and reminds parents that children often "disappear" in ways that can be tragic.  Captions such as "gone forever" remind parents of the loss, while the headline, "remember her, don't let it be you!", suggests that the Tag can prevent such kidnappings. It refers to a previous experience of loss to insinuate that these events can be prevented.
List three ways Mr Toffler author seeks to convince parents to use the Toddler Tag. What reasoning tactics are evident?
 (i) The author states parents can better protect their children from the cruel forces of the "evil world" if they use the Tag.  Firstly, he reinforces a negative image of insecurity and helplessness to exacerbate parents' sense of anxiety. He encourages them to see themselves helpless in a "cruel world", where "perverts and kidnappers lurk". This helps to predispose parents towards the new Tag. The anecdote of Madeline McCann's disappearance also reinforces the fact that the world is "cruel" and unfair.  Then he seeks to provide options and reassure us that there are options available.
(ii) The author also seeks to remind parents that they should take advantage of new technologies in order to better protect their children. This is simply a matter of "duty of care" and responsibility. (This is an attempt to reassure us.)
(iii) According to Mr Toffler, the tag can also help parents to insist on rules and boundaries. This is important because children are naturally "mischievous". Once again, parents are simply fulfilling their duty if they use a Tag.   The author also seeks to convince parents that they are caring, sensible and responsible if they use the tag.
Find an example of a generalisation. How does it suit the author's agenda?
The author uses the generalisation, "we all know that children are mischievous" to convince parents that should use the tag as an ideal solution to help them supervise their naughty children. These comments predispose parents to seek help.
Also, the author states that it is the duty of "all parents" to take advantage of technologies.  He implies that if parents do not use the technologies they are irresponsible parents.
5. What assumptions does the author make about the Toddler Tag?
The author assumes that parents want to constantly monitor their children and are looking for a relatively easy option.
He also assumes that parents cannot look after their children or cannot cope with disobedient children.
He expects parents to think that other discipline does not work and is ineffective.
The author assumes that children are naturally disobedient. They use a generalisation to refer to "mischievous" children to reassure parents who may be wary about the intrusive nature of the Tag.
Do you think that the article is successful in persuading parents to take this extra precaution? As a parent, what other information might you need before buying the Toddler Tag?
It is effective in preying upon parents' fears, especially those who might believe that their children are at risk. It also preys upon vulnerable parents who might think that they are not being as responsible as they should be. It seeks to present the Tag as a useful "tool".
However, parents might want more information about the Tag as a "foolproof" device. They may need to know whether the Tag can be easily disposed of and what happens in the event of an emergency. What happens if the Tag does not work and parents might be lulled into a false sense of security?
Continue on Your Expert Online Journey
Lesson 4: author's reasons (Ex 18 – 21)
Return to Green Online Exercise Program
If you wish to download the exercises for immediate use, please click here to access a PDF version. This consists of all exercises featured on this page.