Please purchase the workbook for maximum use.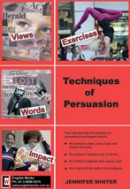 Techniques of Persuasion (and Online Study Program): $14.95 (incl. postage)
Exercise 33: Anna's mother begs for change (p. 45)
1. What is Ms Reston's main contention?
Ms Reston believes that the fashion industry is exploiting young girls, because it appears to make them believe they will only be successful and beautiful if they are dangerously thin.
2. How does Ms Reston depict her daughter, Anna? What appeal does she use and why?
Ms Reston depicts Anna as a victim of the fashion industry that is changing her mindset. In this competitive industry, the girls seem to think they have to be "dangerously" skinny to find work.
This is an emotional appeal that seeks to evoke sympathy for Anna. The author depicts a girl whose confidence became so low that she starved herself to death. As a consequence, the mother is left to mourn. She states, "all I have left is a photo." "No money is worth the life of your child. Not even the most famous fashion brand."   These sentences highlight the mother's grief, regret and disappointment. They not only evoke sympathy but also disgust towards the industry.
3. According to Ms Reston, what is "ridiculous" and "unfair"? What type of appeal is it?
Ms Reston criticises the industry which encourages the girls to be unreasonably and dangerously skinny: hence "ridiculous". It is "unfair" because some fashion parades insist on a minimum BMI, but others do not. Therefore the industry is favouring those who lose weight, which is also "ridiculous". The girls are often rejected and they think that they have to be skinny to find work. This author shames those fashion parades that do not insist on a minimum BMI. This would be fairer for the girls who are not skinny.  (Note the appeal to justice and equality.)
4. How does Ms Reston play upon parents' sense of guilt?
"No money is worth the life of your child." This statement implies that some parents are encouraging their daughters to seek fame and popularity: hence a sense of guilt. This attitude can harm the children and have dangerous consequences.
5. Who is Ms Reston's target audience and explain whether or not you think Ms Reston achieves her purpose.
Ms Reston encourages readers to think about the dangerous consequences of modelling. She is critical of the Melbourne Spring Fashion Week, because organisers did not introduce a minimum body mass index (BMI) for their models.  Many readers will be swayed by her recommendation that all catwalks should follow the same rules. They should follow the lead taken by the fashion industry in Spain, which has adopted a minimum BMI index of 18. Perhaps she suggests or implies that models should also boycott catwalks that do not have such regulations.
For Extension Activities: See Exercise 33: p. 45
Techniques and appeals
View: Ms Reston contends that the industry should have stricter guidelines for models to prevent anorexia and death.
Evidence: Ms Reston refers to her own personal experience and uses her daughter's case to show how young adults become conditioned to see themselves as "not skinny enough". The author also refers to the fashion industries and cites the regulations. Her point is that minimum regulations are not enforced.
Tone: She adopts a desperate tone to share the experience of her daughter's death with readers.
Appeals: Explain Ms Reston's emotional appeal and the description of her daughter: "Ms Reston depicts her daughter as (purpose) . She quotes her daughter and uses emotive language to show (purpose) The story of her painful relationship with her daughter and the fact that she could not change her mind (purpose)
Appeals: Ms Reston also uses intellectual appeals (facts and figures and statistical evidence) to show (purpose) She states that only Spain had a minimum BMI level for models. (Attack on the industry) In order to show the daughter's dangerous weight levels, she compares (view and purpose)
Exercise 34: Animal testing, p. 46
Mr Adams appeals to the emotions of his audience by referring to an imagined hypothetical story of the 12-year old boy who has suffered so much from cancer that he has changed into an old man. Mr Adams encourages the audience to place themselves in the position of this 12 year old person in order to feel his pain including the loss of weight and hair. The reference to young children with cancer is likely to arouse sympathy among members of the audience.
Mr Adams refers to Professor James McCluskey who contends that cures are possible only because of testing on animals. The audience is likely to support such a cure even if it means testing on animals.  Many would feel heartless if they disapprove of the tests because they would feel that they are denying children and teenagers the chance to lead a healthy life.
Jan defends the animals. Jan also appeals to emotions by listing the harmful consequences for animals. Specifically, she refers to the Draize rabbit and encourages us to sympathise with its pain. She uses emotive language to show that animals generally die as a result of testing.
The target groups:
Jeremy Adams: parents and children as well as scientists and policy makers.
Jan: animal lovers, scientists and policy makers.
The cartoonist reinforces Jan's views and seeks to personalise the rabbits to show their thoughts and feelings. Rabbits are personalised, which makes us feel that they are affected by harmful treatments.
For Extension Activities: See Exercise 34, Animal testing, p. 46
Exercise 35: who is the victim? (p. 47)
Julie is presented as a victim. She suffers from cystic fibrosis and is waiting for a lung transplant. She believes that the government is playing a game of chance, or playing "russian roulette" with people's lives. She uses this real-life example to prove that children are dying because the state government will not fund transplant surgery.
Peter Briar's son is presented as the victim who was assaulted gratuitously (without cause) at the train station because he did not give his attackers a cigarette. This anecdotal evidence proves that the government should provide protective services guards on all stations to ensure the safety of citizens.
Amelia is positioned as a victim, because her mother is a gambling addict/statistic. Amelia's sad story proves that the government should implement gambling rules and regulations to protect the vulnerable and defenceless people in the community who are hooked on gambling. Ms Golding is aware that it is difficult for people to relate to statistics. Accordingly, Amelia's sad story is perhaps more powerful than the fact that 330,000 children are affected. Specifically, her mother's gambling addiction has disrupted and harmed an innocent mother-daughter relationship. This not only makes us feel sorry for Amelia but angry towards the mother and the state. The fact that "state coffers" are filling up, suggests that the Government is shamefully adding to the woes of these sad children.
Exercise 36: Support Animal Lives (p.48)
(Topic sentence/ View) Ms King condemns the animal trade as well as the Indonesian Government's attempt to purchase land in the Northern Territory. (Tone) She emphatically states that "this is outrageous".
Interrogative sentence: it requires readers to give an answer about a form of action. (However, it could be a rhetorical question if used as a statement of incredulity.)
What is the appeal: Appeal to moral values: Ms King presents Animals at Risk as an organisation that has moral values. The purpose of the appeal is to encourage members of the public to feel proud if they support the organisation.
How are the animals depicted and why? The animals are presented as victims because they suffer a cruel death in abattoirs overseas – beyond our control. Ms King appeals to our emotions and arouses sympathy for the animals' plight.
Who should feel guilty and why? The directors of the Livestock Trade Ltd should feel guilty because the organisation is responsible for making money out of the animals' suffering. According to Ms King, the directors appear to be obsessed with making a profit at the expense of the animals.
Who does the "we" refer to and what is its purpose: "We" is inclusive language and is used repetitively to refer to members of the public — to Australians — who are collectively responsible for the fate of the animals. She implies that if the public does not take a stance against the trade, then "we" are just as guilty as those who despatch them overseas. In this case, the "we" is also used to shame Australians. (The use of "like parcels around the world": figurative language (simile) to depict the fact that the animals are being treated shamefully like commodities.)
What is the final appeal?: The author appeals to patriotism – "being Australian" – which she believes includes "fighting for the underdog". This is also a moral appeal as the writer suggests that we should proudly fight for injustice and for those who lack a voice and power.
What is the tone of the final sentence?: forthright, assertive, adamant (command)
For Extension Activities: See Exercise 36, Support Animal Lives, p. 48
Exercise 37: Big Brother is watching you (p. 50)
Techniques:
Attack on the council: Ms Johnson discredits the government or councils or institutions who are wasting money and spying on citizens.  According to Ms Johnson, the government or councils assume that the city will be safer with cameras. However, the camera will not make much difference to people who are extremely drunk; also the perverts will just find a way to avoid the cameras.
The author uses hyperbole and an intertextual reference to "big brother": this word has negative connotations and reinforces a sense of fear. The reference to "big brother" seeks to build hostility between citizens and the government.
Appeal to safety/privacy: The hyperbolic reference to "big brother" reflects Ms Johnson's point that the government is invading people's movements.
Generalisation: "everywhere we go these days someone is watching us": this generalisation seeks to scare members of the public.
The cliché, "in the dead of night",  has negative connotations and implies that even when a person least expects it, they are being watched.
Fearmongering tactics: The author instils a sense of fear in members of the public when she refers to the fact that it is impossible to escape surveillance.
The hip-pocket nerve: the author suggests that the CCTV cameras are expensive and are therefore an unnecessary waste of taxpayer's money.   "No wonder our rates are increasing at an alarming rate."   She implies that the council is increasing rates to subsidise the cameras which would annoy many ratepayers.
The author's tone is exasperated and cynical: "No wonder our rates are increasing at an alarming rate!"
The use of statistics and hip-pocket appeal: the reference to the cost of the machines seeks to anger concerned citizens.
Alliteration and cliché/informal language: "convenient cop out": The author states that this is a "cop out" for police, which gives the impression that the police are indifferent and prefer to watch the cameras than do a decent job.
Her emphatic use of repetitive rhetorical questions: "what about …" reinforces her view that there are more practical solutions than spending $100,000 on cameras.  She admits there maybe some minimal benefit, although she seems to trivialise or downplay their benefits. This is because she prioritises individual privacy over intrusive state control.
Repetition and list of rhetorical questions: "What about improved lighting" etc.  The questions highlight preferred alternatives to the cameras that waste money.  The author seeks to reassure members of the public by referencing other practical and cheaper solutions.
Exercise 37, Ms Banter: Why you should be worried, p. 50
Ms Banter criticises computer games because they intrude into family time/space. They destroy a child's creative playworld.  Games are addictive and they are changing children's emotions and capacity to think.   Children are also becoming more isolated because of the addictive nature of computer games.
Ms Banter seeks to scare parents by alarming them of the dangers. She states that children are likely to acquire "brain dead syndrome" and are unlikely to respond to family life in an emotional and cooperative way.
Ms Banter states that it is a "form of child abuse" because computer games are detrimental to children's psychological and emotional wellbeing. She depicts parents as negligent and irresponsible and infers that children's emotional development is being thwarted.
View: Relying on her personal experience and observations, Ms Banter discredits parents who neglect their children and let them play an excessive amount of computer games because they are changing the way they play and think.
Tone: provocative; assertive; adamant; dismayed; censorious. Ms Banter adopts an indignant tone to state that computer games are destroying family life.
Technique: Ms Banter draws upon her personal observations to support her view that children's brains are changing. She also appeals to family values and tradition when she states "gone are the days" when families enjoyed their meals together. Accordingly, she instils both fear and a sense of panic in parents at the fact that children are becoming isolated and addicted to computer games and families are no longer communicating and sharing stories.
Technique and purpose: Attack: Ms Banter uses attacking tactics to scare parents (she casts aspersions on their parenting style) and reminds them of the consequences of computer addiction such as the "brain dead" syndrome.  She characterizes parents as reckless and irresponsible by suggesting that parents contribute to this syndrome by a lack of supervision and control. She maintains it is a form of "child abuse". This is a very strong word to alarm parents and censure those who do not care enough about their children's wellbeing.  Not only does she scare parents but she thereby seeks to shame them because they do not show sufficient duty of care.
Word choice: She uses an alliterative phrase, "bling and blitz", to highlight the fact that children are addicted to the entertainment value of games.
Technique: appeal to emotional well-being; family values and morals:  "This is a form of child abuse". This includes both fear and shaming tactics. The tone is: assertive; stern; judgemental and accusatory.  Ms Banter shames parents who are guilty of neglect and who do not appreciate the long-term consequences. She hopes that they will recognize the folly of their actions. Such harsh and accusatory words also seek to exclude those parents who do not provide adequate opportunities for productive development.
Please purchase the workbook for maximum use. Options for use: Please click here if you would like to buy an immediate PDF version. This PDF version of the workbook includes all the exercises that you will need so that you can follow these extension activities and suggested responses.

Return to Red Workbook tasks: an Overview
Go to Revision Exercises, Exercises 41 – 44, p. 56, 65