For maximum benefit, please purchase Become an Expert + Online Exercise Program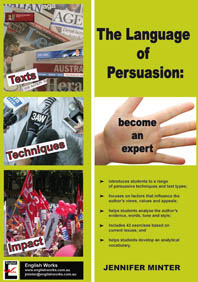 1. Mr Crun's tone:
 In Flash of Frustration Mr Crun uses an indignant  (exasperated) tone when he refers to truck drivers as "cowboys" and "freeway bullies" who change lanes recklessly.
 Mr Crun begins his blog with a real-life example which sets a personal and engaging tone to draw attention to the consequences of reckless driving.
2. Cite three elements of Mr Crun's informal style. Explain their purpose.
 Mr Crun uses an informal style and conversational tone, which is typical of many blogs, to connect with readers and in particular ordinary motorists. Colloquial phrases — "like they don't give a stuff" and "like it's a hoot" — reveal his frustration.
 The repetition of "like" and the rapid rhythm of these phrases give an impression of spontaneity and genuine indignation and help him connect with motorists.
 He uses incomplete sentences and sentences starting with "but" — "But not for our cowboys here" and "but this time the poor motorist carked it".
 The dysphemism "carked it" is employed to shock people in the hope that they will be alarmed at the consequences of such dangerous driving.  There are elements of spoken language, such as elision and contractions — "you'll see 'em driving three abreast" — to reveal the author's anger.
Taking it further: Find the following techniques/ word choices
Appeal to law and order: An indirect reference is evidence when he states that they "don't give a stuff". He refers to the disciplined driving habits in Europe.
Appeal to duty of care: A reference is evident when he states that reckless driving leads to accidents.
Use of a comparison: Mr Crun compares European with Australian truck drivers to highlight his point that the Europeans drive more courteously and keep to the inside lane, whereas Australian truck drivers lack respect.
Figurative language: The David and Goliath imagery implies that truck drivers unfairly use their size to intimidate road users. The comparison with David empowers ordinary, law-abiding motorists with moral superiority despite their smaller size and seeks to channel readers' sympathy towards them.
Rhyming words: The alliterative phrase "metal monsters" has negative connotations: it implies that truck drivers use their size to intimidate others.
Extension activity: Write a paragraph relating to Mr Crun's views and tone. Include at least two techniques and discuss their purpose and impact.
Mr Crun uses the real-life example of the Hedway Tunnel accident to show the consequences of the truck drivers' dangerous behaviour. Then, he discredits truck drivers with pejorative language such as "cowboys" to draw attention to their disrespect for road rules and other motorists. The fact that they drive "metal monsters" shows how they intimidate other road users. The use of these emotively-charged phrases helps to channel our indignation towards truck drivers and ensure that we reserve our sympathy for the victims— ordinary law-abiding motorists. He appeals to law and order and public safety when he describes the truck drivers as "cowboys", who drive with "gay abandon". The fact that they change lanes at whim, and overtake so carelessly that a motorist "carked it" is likely to incense motorists, especially those who have had close encounters with truck drivers.  Throughout his blog, Mr Crun uses a colloquial style with words such as 'truckie", "give a stuff" and "it's a hoot", to give an impression of spontaneity and genuine concern. That truck drivers get away with such bullying tactics is bound to further antagonise law-abiding road users.
Continue Become an Expert: Online Learning Journey
If you wish to download the exercises for immediate use, please click here to access a PDF version. This consists of all exercises featured on this page.

Return to Turn To Page Summary