Please purchase the workbook for maximum use: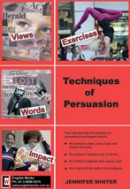 Techniques of Persuasion: $16.95 (incl. postage)
What do they say? How do they say it? And why do they say it? How do they influence our thoughts and feelings?
Exercises 1 and 2, pp 3 – 6
Exercise 1: The need for mobile phone care, by Mr Evan Winter (The Daily) p. 3. and Hands off the panic button, Mr Peter Christon, p. 3.
As a science reporter Evan Winter appears trustworthy and accurate. He quotes Dr Hirvani who is a surgeon at the Coolabar Hospital.
The surgeon's main priorities would be public health and the protection of people from harm. He believes that people who use mobile phones for more than 10 years are more likely to get a brain tumour.  He compares the dangers of using mobile phones with that of people smoking or dealing with asbestos.
Mr Winter condemns the use of mobile phones because they can cause tumours in the brain.
Referring to a credible surgeon such as Dr Hirvani, he seeks to alarm all phone users about the possible health risks of "heavy mobile phone use". In particular, he logically outlines the links between mobiles and brain tumours.
The science reporter appeals to health and well-being to remind all phone users to be careful about how they use their phones.
Adopting a sensible but urgent tone, he thereby reminds phone users that they should be very careful not to rely too heavily on their mobile phones.
Hands off the panic button, p. 3
Mr Peter Christon from Telstar Mobile Communications Association states that there is no evidence to show that mobile phones damage people's health.  He is likely to advance the views of the organisation and minimise the risk to public health.
We are more likely to trust the surgeon who is a disinterested source. In contrast, Mr Christon has a vested interested as the company needs to sell phones and does not want to alarm people, as people's concern could jeopardise their sales.
Please purchase the workbook for maximum use.
Exercise 1: "Loony idea say psychologists": Who is talking? p. 4
Dr Michael Carr-Gregg appears to be the most objective stakeholder. We tend to trust his views because he speaks on behalf of families. He defends the rights of young children to a healthy self image. He also treats young adults who may have body image problems and understands their problems and concerns.
Ms Janey Spitman: We would trust her (with some reservations) but we must be aware that she needs to protect the school's reputation. However, wearing earrings may have caused conflict with the school's policy and so it seems reasonable that, if the student did not heed the warnings, the earrings were therefore airbrushed.
Monica: It is hard to trust Monica because she appears typical of teenagers who have self-esteem problems. She may be a person who is easily influenced by her peers and seeks popularity.
Mr Peter Smiley is the least trustworthy among the stakeholders because he represents the company that makes money from school photographs. He tries to downplay the fact that their company may change a person's image. He has a conflict of interest because he is benefiting from the business.
Exercise 2. The Author's main contention  (pp. 5-6):
Secondary school start time
Mr Greg Manson, organiser of clinical psychology programs at Treetown University, believes that secondary school should start at 10 am in order to overcome students' lethargy.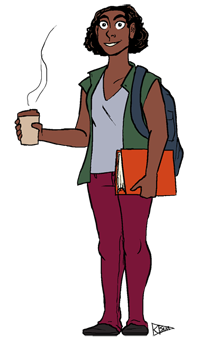 In contrast, Jon believes that a later time will just be an excuse to waste time. Teenagers will go to bed later and sleep in. Give examples of key words and phrases: what do they suggest?

Arcade games: The author contends that arcade games manipulate children because they give the impression that children can easily win prizes. Often, children become addicted and then they start playing poker machines. Give examples of key words and phrases: what do they suggest?

Tax unhealthy foods: Ms Scott maintains that the Government should tax unhealthy foods to discourage people from buying fizzy drinks and fast food. In contrast, the government should subsidise the price of healthy food such as fruit and vegetables. As a result they are more likely to suffer from diseases such as diabetes and obesity. People who have low incomes are more likely to buy fast food because it is cheaper. Such people cannot afford healthy food which is more expensive. Give examples of key words and phrases: what do they suggest?

Social networking sites: The Editor believes that Facebook is not taking sufficient precautions to protect users' privacy.  They believe that this leads to unnecessary deaths because often innocent girls are stalked (followed or watched) by anti-social individuals.
Return to Techniques of Persuasion: an Overview
Go to Lesson 2: Tone and Style, Exercises 5 – 10.