1.2 The aim of this workbook
Arguments and Persuasive Language is the third in the Persuasive Language/Arguments Series.
Arguments and Persuasive Language: analysing and writing opinion-based texts helps students apply these skills to more complex opinion-based texts and to write their own essays.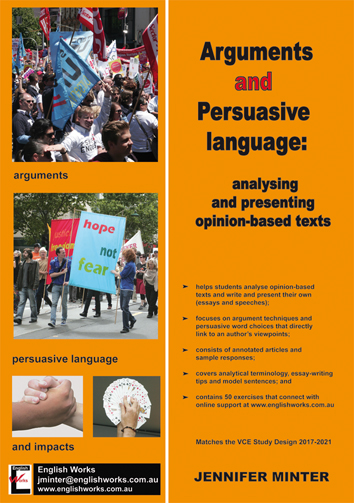 An overview of Arguments and Persuasive Language
Chapter 2: "The Author" encourages students to reflect upon the author's perspective, their background, their degree of influence as well as a potential for bias.
Chapter 3: "The Argument" identifies three complementary methods that authors use to structure opinion-based texts. This knowledge helps students connect key reasoning and persuasive techniques to an author's viewpoints. For example, rather than learning techniques in isolation (such as an anecdote, expert opinion and inclusive language), students will analyse the techniques in a "holistic" way.
Chapter 4: "Persuasive Language" provides an overview of different types of words and phrases that have a persuasive function, particularly those with extra meanings: emotive, figurative, tonal and stylistic. This chapter encourages students to choose their quotes wisely in order to add depth to their discussion.
Chapter 5: "Taking it further" equips students with a range of strategies to delve more deeply into an author's purpose and positioning intentions, taking into account specific target audiences and key argument techniques.
Chapters 6, 7 and 8: A Standard and a Comparative Paragraph and Your Analytical Essay. Students will learn how to write a simple but effective, and controlled paragraph, flowing from a "broad" view-point level to a specific, persuasive word-level analysis.
Chapter 8 includes a range of sample essay models relating to both a standard and a comparative-based analysis.
Chapters 9 and 10: These chapters help students apply their skills to their own opinion-based texts: essays and speeches. Following the paragraph tips, they will improve their persuasive essay-writing skills. Annotated essay models also help students use persuasive and rhetorical devices in their oral presentations. This chapter includes a range of annotated essays, speeches and a "Statement of Intention".
To purchase: Arguments and Persuasive Language
To see Sample Pages of the Workbook: Click here.
To help students further expand their analytical vocabulary, and to help them improve their analytical precision, this workbook includes targeted analytical terminology and sentence models.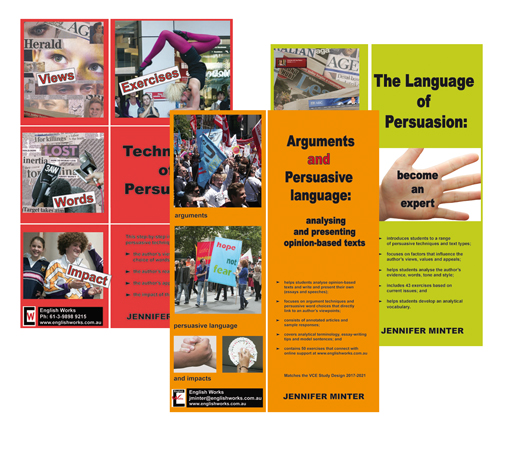 The first two workbooks equip students with the skills to analyse opinion-based texts. This includes a knowledge of persuasive and reasoning techniques as well as an introduction to the analytical terms that are critical to an insightful analysis.