Q: My teacher said that I am 'unpacking' (elaborating) too much. I will not be able to cover so much in an exam.
Good writing and good thinking skills are about being strategic and selective. You must develop a feel for which word choices best reflect the author's views and values.
If you only had 10 minutes to write a 10-sentence paragraph, which words would you choose?
Chose two to three quotes to make a point – not five Be selective. If you try to cover everything, your paragraph lacks shape and loses focus.
Divide a large text into two. Take a chunk and identify:
The author's viewpoint (for / against and why)
One or two argument techniques that underpin this viewpoint
Three words/phrases that best reflect the author's viewpoint; what is their purpose? (See pp 18-24)
Q: The teacher said I repeat myself too much – and that I have to cut out the repetition.
Of course, you have to cut out fluff and avoid repetition – avoid saying the same thing in three different ways. (Less is more).
Be systematic. Refer to our paragraph plan. Each sentence must accumulate meaning.   
Q!: My teacher said that I am listing devices. How can I avoid this?
Listing occurs when you isolate – techniques and word choices.
One way to avoid listing is to be selective and to group together emotive word choices that reinforce each other.
Show a progression of thought – from a concept/key idea perspective to a (persuasive) word level analysis and keep analysing the impact of words. Choose the best three phrases and then unpack them – focusing on direct and indirect meanings. (Think about general and specific audience positioning strategies.)
Q My teacher said that I am joining too many techniques together. How can I avoid this?
Aim for one technique to one sentence. This will enable you to connect the technique to the author's meaning. Listing several techniques in one sentence isn't an efficient way of writing.
Non-finite clauses are a good way of embedding techniques (metalanguage/analytical terms) and contextualising their meaning.
See pages 14 and 48.
Q: My teacher said that I need to improve the sophistication of my writing. How can I do this?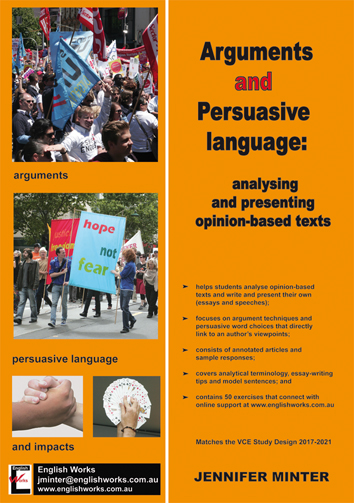 Sophistication is connected with control and the ability to express meaningful ideas in sharp and clear sentences. This means:
Control of vocabulary: The right word in the right context.
Control of your sentences: You need to write grammatically correct sentences that are clear and pointed.
Control of your paragraph: Try to gain some shape in your paragraph moving from the concept/key idea /argument level to (emotive/figurative) word-level analysis. (See pages 49 and 54.)