Jan's Travel Blog
Jan 4.15 10 January 2020
I have finally got around to uploading my photos
from Sri Lanka. I decided to split them up into two
posts as I took a zillion photos. Sri Lanka is
definitely a fabulous holiday on the cheap, but my
lord MAKE SURE YOU GET YOUR SHOTS!!!
My ex-boyfriend Julius and I didn't. I was sick
within 6 hours and he was sick within 5 days.
On the up side I lost 4kg in 11 days, on the
downside I was too tired to shop properly or take
full advantage of the amazing beaches. Here
are a few photos (OK, a lot) that I took while I
was in Sigiria. I was lucky enough to meet
two amazing girls from South Africa to party
with (even though I looked & felt like shit),
was also daring enough to get among some
animals at the zoo (although the living
conditions of the animals were so poor it was
heartbreaking) and I picked up some amazing
things to take back home
Commentary: comment on contextual factors, discourse features, stylistic features, social purpose and register
Introduction (introduce the text type, the context and the register)
Paragraph 1: Discourse features and conventions; contextual factors and register
Paragraph 2: Social purpose and lexical choices; register/face needs (and prosodics)
Paragraph 3: Stylistic features and syntax; register and face needs (and prosodics)
Introduction: Jan's online travel record was published in an online blog on January 10th, 2020. Her main function is to impart travel information and to display her photos for other young travellers. Drawing upon her own personal problems during her trip with her ex-boyfriend, Julius, Jan uses discourse features and an informal register that are intrinsic to an online blogging environment.
Integral to the context – an online travel post – Jan uses a variety of discourse features to impart holiday advice to would-be travellers to Sri Lanka. Jan uses the personal pronoun "I" to build rapport with her community of readers, and to provide a spontaneous first-hand recount of her travel experiences. Throughout, she uses subject specific lexical fields relating to holidays; the noun phrase, a "fabulous holiday on the cheap" (line 4), and the repeated adjective "amazing" reveal her astonishment. Repeated adjectival phrases — "amazing beaches" (line 10), the "amazing things" (line 18) and the "amazing girls from South Africa" — confirm her identity as an adventure-seeking young adult who enjoys "parties", shopping and holidays "on the cheap".
The associated subject field of memory-making further reinforces her social purpose, which is to share photographic details with her friends and family. On a personal note, Jan confesses her obsession with "uploading my photos from Sri Lanka" (line 1) and coherently explains the reason for the two posts — there are "zillions" of photos. The informal register and her enthusiastic personality are apparent in the adjectival use of profanities ("like shit") and neologisms ("a zillion photos"). Specific deictic references – "here are a few photos" (line 11) – coupled with humorous interjections – ("OK, a lot") (line 11) – further confirm her enthusiasm. Such colloquialisms and the blasphemes, "but my lord" (line 5), typically reduce the social distance and reflect her view that Sri Lanka is a picture-perfect opportunity for like-minded travellers who will return home with souvenirs: "I picked up some amazing things to take back home".
Jan uses a variety of syntactic stylistic features to fulfil another social purpose, which is to impart health advice. Sentence styles include a demonstrative imperative sentence with capital letters and exclamation marks to reinforce her message: "MAKE SURE YOU GET YOUR SHOTS!!! (line 5). As to negative face considerations, she provides details of her personal distress to compensate for her imposition in directing all young travellers to keep up-to-date with injections. She uses a declarative and a compound sentence to compare her health problems with her boyfriend's: "I was sick within 6 hours and he (Julius) was sick within 5 days" (lines 6-7). She uses adverbial phrases antithetically – "on the upside" and "on the downside" (line 9) – to suggest there were benefits such as losing weight ("I lost 4 kgs in 11 days" (line 8)) and disadvantages – she was "too tired to shop properly" (line 9). From a stylistic purpose, the use of profanities and ampersands – "I looked & felt like shit" (line 14) – reinforce her frustrations that her holiday was constrained. Additional stylistic features include the non-standard syntactical features: she inserts three bracketed phrases and clauses relating to the heartbreaking condition of the animals: "(although the living conditions of the animals were so poor it was heartbreaking)" (lines 17-18).
Overall, Jan uses discourse features that are intrinsic to the blogging environment accentuating her personality as an enthusiastic young traveller. She uses informal linguistic strategies to reduce the social distance as she encourages her audience to enjoy her photos. From a stylistic perspective, her idiosyncratic lexical choices and non-standard syntactic patterning also help to reinforce her purpose – which is to portray Sri Lanka's potential as an ideal tourist destination for adventurous young adults.
This Resource is updated weekly.
Ideal preparation for SACs and the exam
"How to Write an Analytical Commentary" for English Language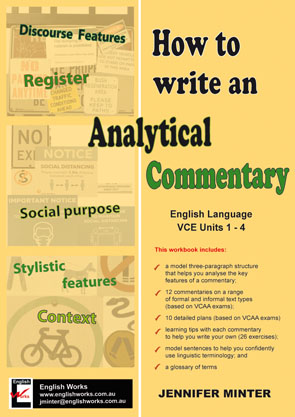 Chapter 1 provides an overview of the metalinguistic terminology connected with the features of a commentary: contextual factors, social purpose, register and stylistic and discourse features. (See pp. 3-4 and the Glossary on pp. 77-83.)
While using these features to guide your analysis, you must also demonstrate an ability to use "relevant descriptive and metalanguistic tools" — relating to at least two subsystems. Given that the linguistic features must be connected to, and guided by, the meaning and the mode of the text, the most prevalent subsystems will be lexicology, syntax, semantics and discourse.
Chapter 1 provides an overview of the metalinguistic terminology connected with the features of a commentary: contextual factors, social purpose, register and stylistic and discourse features.
Chapter 2 outlines a model structure, which can be used as a model (adapted and customised) for a range of  written and spoken texts — in both formal and informal registers.
Chapters 3 and 4 provide extensive plans (9) and commentaries (12) on a range of text types for written and spoken communication modes — both formal and informal. The transcripts are drawn from "past examinations" for English Language set by the Victorian Curriculum Assessment Authority (VCAA) and can be accessed via their website.
Each commentary establishes a connection with Unit 3: "Language variation and social purpose" and Unit 4: "Language variation and identity".
OR To buy an extended range of Analytical Commentaries based on VCAA exams