For maximum benefit, please purchase Become an Expert to access our (free) Online Study Program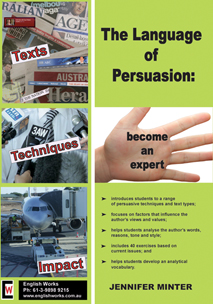 Become an expert: Exercises 1 – 12 (pp. 3-18)
See Lesson 1, Exercise 6: Evidence, p. 9
Exercises 7 – 8, p. 10 -11
Exercise 7: Ban puppy factories  (p. 10)
Use tone words such as : outraged; incredulous; exasperated; indignant; assertive
Ms Fry adopts an outraged tone to direct our attention towards the number of animals that are killed. She is also outraged at the fact that there seems to be little control over the puppy factories.
The tone of Ms Fry's rhetorical question is one of outrage. She is outraged at the fact that …
Ms Fry also adopts an incredulous tone to express her disbelief at the factories that are making a profit at the expense of the animals' lives.  Adopting an assertive tone, she suggests that the factories are exploiting the animals for profit.
Ms Fry adopts an assertive tone to reinforce her point that "this is a disgrace".
The final comment, which reflects the need for "political will", reveals the author's upstanding tone. Adopting a grateful tone, Ms Fry also acknowledges the "tireless" effort of the volunteers.
For further metalanguage practice on "Ban puppy factories", please click here.
Exercise 8:  Shameful waste  (p. 11)
Sam is incensed that the government appears to have inappropriate priorities.
Sam adopts a dismayed tone to draw attention to the waste of taxpayers' funds.
In a sarcastic reference to "Einstein", Sam questions the intelligence of politicians and expects members of the public to recognise the government's unfair priorities.
In a dramatic appeal to the emotions, he states indignantly that students are "forced to take blankets to school".
The author discredits the government's financial priorities. Sam juxtaposes what he believes are excessive funds donated to the Super Ministries's budget with that given to school administrators for essential facilities. Sam points out this discrepancy in order to antagonise members of the school fraternity.
The author discredits the government's decision to grant such a large sum of money to the Super Ministries.
The writer admonishes politicians for unnecessarily wasting an immense amount of money.
Exercise 8: The fat bomb (p. 10)
 The author adopts a frank tone to remind members of the public about the deplorable state of the obesity crisis.
Adopting an unambiguous tone, the author recalls the alarming statistics.
Derisorily, the author states that Australians would win the "fat Olympics" if the obesity-fuelled crisis is not checked.
Adopting a censorious tone, the author condemns the deteriorating health of Australian adults.
Professor Simon adopts a scornful tone to condemn the high-rate of obesity and obesity-related diseases in Australia.
Casting aspersions on the increasingly unhealthy eating habits of Australians, the author challenges Australians to take more care with their health.
Prof Simon is sceptical of Australia's potential gold medal tally owing to the public's increasing obsession with junk food.
Become an Expert: Let's continue your Online Study Journey
If you wish to download the exercises for immediate use, please click here to access a PDF version. This consists of all exercises featured on this page.