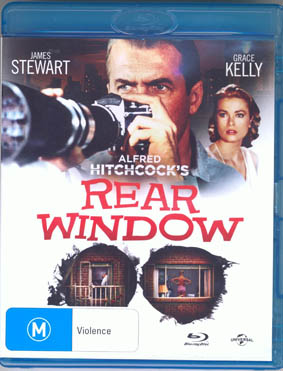 Rear Window was eventually listed by the American Film Institute as one of the best one hundred American films. It premiered in Hollywood on 11 August 1954, and the critics described it as "exhilarating" and "roundly enjoyable". Within two years it had earned $10 million.
Alfred Hitchcock stated that "of all the films I have made, this is to me the most cinematic". He also stated that "my love of film is far more important to me than any considerations of morality".
In the following package of resources, students have every chance of success in this clever, but ambivalent text. To purchase, click here.
I am also offering a series of Zoom Lessons on this text, which involves a Membership Package: personal access to files: Hitchcock's views and values (for topic sentences); metalanguage; how to write an essay on a film; 3 sample essays; 10 sample plans. Please See Rear Window Zoom Lessons and Membership Access.
This urbanised setting, in which the apartment block's rear facades link together to form closed courtyards, gives rise to the metaphoric concept of the "rear window" – a sense that viewers are glimpsing the private lives of others. The sense that the audience is privy to the private world of American apartment-dwellers is further emphasised through the close-ups and extreme close-up shots afforded through the telescopic lens of Jeff Jefferies, a recuperating photo-journalist.
Despite a sense of liveliness and a sense of the commonplace, many of the inhabitants appear to be coping with a strong sense of loneliness. They seem to lack a real and genuine sense of community. The concept of the "rear" window also shows individuals and couples struggling with secrets and with tension.
The film gives rise to the question: does Hitchcock condone or caution against voyeurism?
Themes and Characters
Themes include and exploration of the metaphoric "rear" window; the concept of voyeurism in the context of the McCarthy-style communist witch-hunts; the secret and private lives of others; social expectations; parallel relationships; the murder investigation; gender roles and ironies; change and disruption.
Essays and Plans
The package also includes 8 text response essays: a range of plans and essays (using appropriate film metalanguage).
Film terminology
A list of film terminology: this list consists of sentence models so that you can effortless include a discussion of film techniques. This is critical to a decent mark.
Sample Creative essays
The package also includes some sample creative essays (in a variety of formats) that draw upon the themes in the film.
It contains 41 pages.