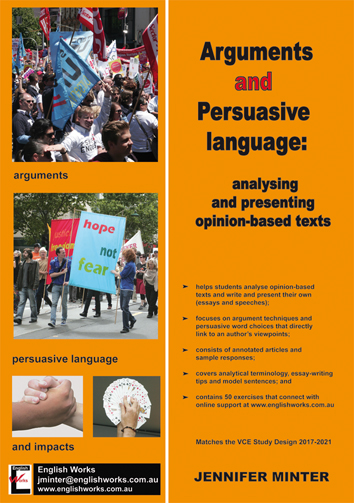 Arguments and Persuasive Language:  analysing and presenting opinion-based texts (2020) helps students in Years 11/12 unlock the key to an A+ essay
ISBN: 978-0-9924942-9-2 /$28.95 (To buy, click here.)
Area Study 2: Analysing and presenting arguments
The workbook consists of easy-to-follow TEEL-structured paragraphs and essay plans, analytical and grammatical tips and analytical sentence models and tone words. Students will learn how to clearly and confidently:
identify the author's viewpoints;
link argument and persuasive techniques to a key viewpoint;
zoom in on words with a persuasive agenda (that reinforces the key viewpoint);
write analytically precise sentences with an emphasis on "purpose" and the author's positioning intentions;
quote words with an analytical "story"; and
write sharp and smart paragraphs and comparative essays in order to present an A+ essay
Students will also learn how to write comparative essays; students will use the first text as a base from which to compare similarities and differences in other texts.
The English Works Pack ($95): Includes:
a copy of each of the five workbooks (Techniques of Persuasion, The Language of Persuasion: become an expert; Arguments and Persuasive Language: an essay-writing guide; Better Essays and Persuasive Techniques and Clear Writing: language and grammar).
"Using the English Works language analysis workbook in Year 11 at school really helped me turn the corner. Building on these skills I went from averaging C's and D's in my essay-writing during Year 11, to an A+ student in Year 12. I even duxed English at Blackburn High School!" (Nathan, (42) Blackburn High School)
I was quite lost in language analysis in Year 11 and almost completely bombed out. Too much summarising and I just didn't get it. With Jenny's help I went through her Arguments and Language Analysis: an essay-writing guide, which gives tips, strategies and a good system to follow. It made all the difference between a decent and a terrible mark." (Taehyun, 37, Balwyn High School, 2014)
"Jenny's sessions made all the difference to my study in VCE English. Following her essay plans in the (language analysis) workbooks, changed the way I approach and fine tune my essays to reach a high standard. Focusing on key strategies and word implications helped me write impressive essays, contributing to my perfect score." (Catherine Dinh, (50), 2013, Sacred Heart Girls College)