For maximum benefit, please purchase Become an Expert to access our free  Online Study Program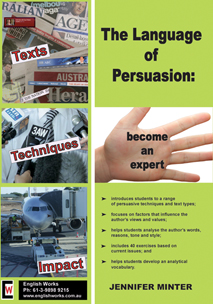 See Exercise 12, p. 15: Be Nice
Exercise 13: Your Say: (p. 19)
"Hoon menace" by Mr Johnny Familyman
Colloquial language: "Hoons": 2. colloquial language
Cliché/figurative: "Caught red-handed": 4. cliché/ metaphor
Sarcastic tone: "10 kmh over the speed limit": 1. sarcastic tone
Alliteration: (idiomatic expression) "Cash cow con": 3. idiom/ alliteration
Mr Familyman; tone words and sentences
Mr Familyman sarcastically contends that police are ignoring the real problem and catching the drivers who are doing the least harm.
He uses colloquial terms such as "hoons" and "real crims" to address members of the public on a familiar level. Accordingly, he seeks to win their support for his critical attitude towards the police who, he believes, are failing to protect our neighbourhoods.
He uses a figurative expression to suggest that we are the ones being caught "red-handed".
This phrase derides the police and seeks to anger the public about the lack of safety.
He cynically suggests that the police pursue these trivial offences instead of catching the "hoons".
By using these words in a sarcastic and derogatory way, Mr Familyman questions the motives andcredibility of police officers.
 Their purpose is to make members of the public sufficiently incensed so that they exert pressure on the police to take greater disciplinary action against offenders who are speeding around residential housing areas.  
"Kids won't listen" by Ms Holland, p. 19
Get real": 2. colloquial language
"Blue in the face": 3. cliché/ idiomatic expression
"Driven drunk dangerously": 4. alliteration
"Stop kids taking risks": 1. adamant tone
 Ms Holland: tone, words and sentences
In an exasperated tone, Ms Holland believes that communication does not suffice.
 Her colloquial interjection, "get real" sets the scene for her sarcastic comments about parental advice.
 Her facetious tone challenges her adult-audience to think about whether "kids" are receptive to parental advice.
 She idiomatically reinforces her scepticism when she states that they can talk until "blue in the face" but to no avail.
 She encourages parents to think about her pragmatic inference that it is extremely difficult to reason with teenagers when their parents' confession would give them "DUTCH courage".
As such, she believes that it is counter-productive to overestimate young adults' wisdom.
Using capital letters, she dogmatically concludes that talking 'WILL NOT" prevent risk-taking — thus reinforcing the stereotype of teenagers as reckless, stubborn and immature.
"Why would you trust a moron?" by Mr Soberup, p. 19
 "Complete moron": 2. pejorative terms
"Apologise … to parents and friends": 1. self righteous/ moralistic tone
"Why would you trust … ?" : 3. rhetorical question
"Egging him on": 4. cliché/ idiom
Mr Soberup: tone words and sentences
To shame and isolate the perpetrators of such horrific accidents, Mr Soberup uses pejorative terms and an incensed tone.
Derogatory labels such as "complete moron" and "bloody idiots" apply equally to the foolhardy behaviour of the driver and to that of his friends.
Such words highlight the author's view that there is no excuse for such reckless behaviour.
The colloquial (and idiomatic) expression to describe how they were "egging him on" mocks and shames the friends just as much as it does the driver.
Mr Soberup poses a rhetorical question — "why would you trust a moron like that?" — to encourage readers to reflect upon the poor judgement of his friends that cost them their lives. Mr Soberup's confrontational and self-righteous statements are also directed at parents who should be "apologising profusely".
 His derogatory comments and critical tone convey the level of his frustration.
 He seeks to anger readers and increase their antagonism towards those who are compromising/jeopardising their own and other people's safety on the road.
 Next Exercise
Continue your Expert Online Study Journey
Lesson 3: author's appeals (Ex 15-17)
Return to Green Online Study Program
If you wish to download the exercises for immediate use, please click here to access a PDF version. This consists of all exercises featured on this page.