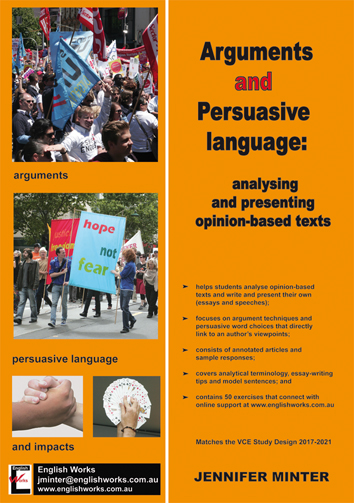 Keeping up-to-date and ahead: Arguments and Persuasive Language: writing and presenting opinion-based texts (2020) helps you unlock the key to an A+ essay.
This is a critical component (Section C) of the Year 12 English Exam (Victoria). The best students perform particularly well in this section. Please note that the curriculum changed in 2017 from persuasive word-level analysis to argument-persuasive language analysis. Please purchase the workbook here.
Our Membership Program:
You can also purchase the membership program with the workbook. The cost is $50 (including the book (either hard copy or PDF copy). This provides you with access to all "suggested responses" and extension activities, tips and feedback. This Resource is updated regularly. Our students regularly achieve high marks in English.
To start work immediately, please download our PDF version ($50.00) After your purchase, I will email you your login details and password. Please see the list of Exercises and Suggested Responses.