Please See Dr Jennifer Minter's Response Package to past VCAA exams and tips for Section C and for your SACs.
See VCAA Section C: Tips and Response Package: (plus useful terminology) – English Works
Section C: Argument and written and visual language
Year 12 VCE Exam Task: "Write an analysis of the ways in which argument and written and visual language are used in the material … to try to persuade others to share the points of view presented."
The Year 12 Argument Language Analysis Response Package (18 pages) has been prepared by Dr Jennifer Minter, following the updated English Curriculum specifications by the Victorian Curriculum and Assessment Authority.
It includes:
sample responses to the 2018, 2017, 2015, 2014, 2012, 2010, and 2009 English exams following the updated prescription (regarding analysis of arguments/written and visual language and points of view);
sample paragraph plans so that students find an easier way to tackle argument/language analysis and intuitively contextualise the language choices around key arguments;
simple and effective tips that will ensure students are able to achieve a superior mark;
some tips on clever use of metalanguage (for argument, written and visual language) so that your response will stand out and avoid a shopping list-style of isolated persuasive word choices; and
a time management schedule so that students complete their response to time.
See VCAA Section C: Tips and Response Package: (plus useful terminology) – English Works
Please contact me via email : jminter@englishworks.com.au to book a session (either individual or group).
What the textbooks won't tell you: how to focus on "arguments"
Argument/Persuasive Language Analysis is not about annotating every single word choice in isolation. It is about knowing which features to zoom in on and which features will lead to depth of analysis. A pointed analysis is the only way to achieve a polished and sophisticated structure.
See our updated 2020 Arguments and Persuasive Language : a necessary tool for success.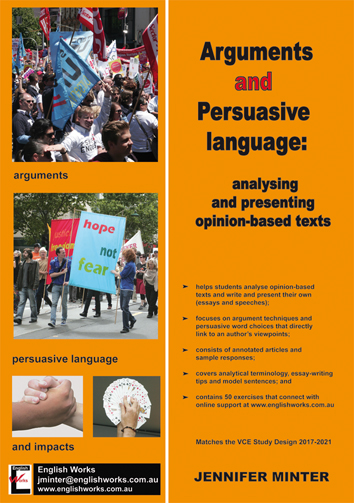 What the textbooks won't tell you: how to focus on "arguments
Smart argument strategies so as to intuitively fine-tune viewpoints: Rather than an isolated list of persuasive techniques, this workbook provides clever and smart three methods to analyse "Arguments". This sets you up for a good discussion. It also ensures that you contextualise the key arguments and persuasive words around the viewpoints – if you do the reverse, you will be generic and you will summarise.
This workbook helps you set up paragraphs: Finding the right starting point for your paragraph is critical to your ability to delve into purpose and positioning strategies. Use your own words and strategic verbs; don't rely on a quote to try to convey the author's viewpoint. (Do not describe or summarise the issue.) (See sample paragraphs, and responses; note the topic sentence in each paragraph.)
Structure is the key to "depth of analysis": This workbook provides you with smart strategies to achieve this. For example, identify a key overarching argument technique that connects the examples, phrases, word choices together. (This will ensure that your paragraph has a sharp, unified focus and avoids a shopping-list, word-level style analysis that will inevitably lack a focus. This style also limits the "depth of analysis/purpose".) (See "argument terminology" and sample paragraphs and responses.)
Identify the quotes that best support the author's viewpoint/argument. (Choose three of the best quotes and unpack, analyse the type of language/tone and link to the author's viewpoint.) (In other words, contextualise the written language around arguments, not the other way around!)
And "take it further': follow our paragraph for depth of analysis.
Use your metalanguage smartly, so as to avoid summarising and to ensure the spotlight is on purpose, taking into account audience segments. (See Pages for "metalanguage"