Analyse! Don't Summarise
To Purchase: Please see Analyse! Not Summarise: The Language Of Analysis
Analyse! Not Summarise: The Language Of Analysis consists of analytical sentence models. These models introduce you to analytical words and phrases so that you can improve your text response essays.
I am offering a series of Zoom Text-specific classes: the focus is on major themes, narrative devices and essay plans.
The purpose of this workbook is to provide students with the skills to analyse – not "story-tell".
As students work through the exercises, and learn the appropriate analytical terminology, they will intuitively analyse an author's narrative techniques.
The paragraph plans shows students how to apply their skills to a text-based essay: an awareness of narrative devices also helps students more analyse an author's themes and intentions.
By following a range of sentence models, students will write analytically precise and grammatically correct sentences; in order to
write A+ sentences.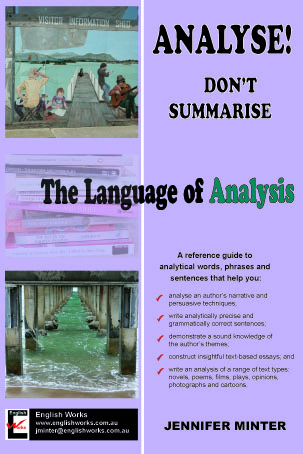 This workbook consists of targeted excerpts from classic Australian authors. It helps students zoom in on specific narrative devices, and provides a variety of sentence models, plus definitions, so that students can confidently write an appropriate, an insightful, and a sophisticated analysis.
Chapter Four provides additional terminology for a range of text types. For example, students can master analytical terminology for film techniques in a much more efficient way. This knowledge not only helps them write a better response, but they will time to practice more essays!
Zoom classes on text response include; General class; Rear Window text response; Station Eleven text response
Making a difference: see our latest posts
To Purchase: Please see Analyse! Not Summarise: The Language Of Analysis
Advice to teachers: Analyse! Not Summarise