Please purchase the workbook for maximum use.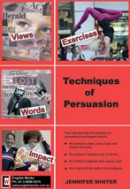 Special Price: Techniques of Persuasion: $16.95 (incl. postage). 
Exercise 5.   Discussion of Theresa Smart, a 15-year-old solo sailor (p. 9)
Junie: exasperated; dismayed; shocked; incredulous
Gary: defensive; approving; complimentary; conciliatory; sensible; reasonable
Junie: indignant; horrified; scathing;
Gary: assertive; forthright; strident;
Junie: scornful, contemptuous; sensible; logical; reasonable.
Exercise 6: Tone tips, p. 10
Butt out with bans
Rhetorical question
Cynical, exasperated, frustrated tone.
Too many knives
Modality: "might wish to cause harm"
Cautious, courteous.
It's time to switch off
"If they don't talk …": Rhetorical question: cynical and provocative.
"Switch off mobile phones…" : imperative, assertive, commanding tone.
Exercise 7: Short articles, pp. 11 – 13
"A dog's life" by Mr Jack Smith p. 11.
Clearly identify the author's views and purpose:
Mr Jack Smith of Brunburn disagrees with Mornington Council's proposed new law to restrict the length of a dog's lead to one metre. He maintains that it is unfair to force all dog owners to use such a short leash.
Provide examples of the author's tone (definitions provided):
The proposal is "outrageous": dogmatic and incredulous tone.
"Do they want us to choke our dogs .. ?": exasperated; annoyed (rhetorical question)
"Maybe they have something against dogs!": cynical; indignant; mocking; accusatory.
"Make rules for the irresponsible owners …" : imperative, assertive; urgent; forceful (command)
Mr Brunburn adopts an indignant tone to express his view that the decision is unfair and discriminates against sensible dog owners.
"The potato sack deception" by Mr Harry Jon, p. 11
Mr Jon states that the Government should ban the burqa because it helps people disguise their criminal activity.
"Clearly in light of this disturbing trend.." : forthright, assertive, dogmatic, confident.
"How do we know who's hiding behind…": inflammatory; provocative; challenging.
"Its use is shaming their religion": moralistic and self-righteous.
Mr Jon adopts a dogmatic tone to warn the government that it "has no option but to ban the burqa".
"A family affair" by Mr Luke James, p. 12
Mr James claims that the police officers should not interfere unnecessarily in family life.
"I can't believe…": incredulous; astounded; flabbergasted; alarmed.
"Really, if there isn't an obvious case of violence, should they be interfering in family life?": provocative; challenging; reflective.
Drugs in sport, p. 12
View: Ms Haughton discredits the MFL because of its casual approach to the players' drug offences.
 Tone: Ms Haughton adopts an indignant tone to convey her dismay at the fact that David Hones was not suspended.  She adopts a righteous and blunt tone to state that they should be harshly punished.  (assertive, dogmatic, stern, forthright)
 "Give cyclists a break" by Ms Julie Winter
Ms Winter praises the government's action to provide bike paths.
"Why does it take a spate of accidents …?"; frustrated; dismayed.
The references to the two accidents: respectful, sincere, honest and candid tone.
"Please slow down"; respectful, courteous and urgent.
The drivers' "reckless behaviour is harming others"; high-minded and stern.
"Girls need a fair game" by Ms Helen Tanmount p. 13.
Ms Tanmount states that boys should continue to be banned from joining the girls' netball team. She asserts that girls have the right to a "level playing field" and the inclusion of boys will disrupt the dynamics of the game.
• "Jack should not be allowed": assertive; adamant; forceful.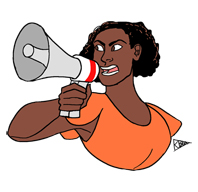 • "It's a pity that there is not a parallel boy's competition": sympathetic;
• "the decision might seem sexist" : defensive and reasonable.
"Bottle shops around the corner" by Mr Horner, p. 13.
Mr Horner believes that it is disgraceful that bottle shops can be found near schools.
• "It's an absolute disgrace"; dogmatic; adamant.
• "A little bit of leadership goes a long way": high-minded; cynical; provocative.
"Dump homework", the Editorial, The Daily, p. 13.
The editor believes that children should be involved in activities that help them enjoy childhood rather than getting stressed about homework.
• " homework should be "dumped": dogmatic and forceful.
• "let children be kids once they get home": high-minded and assertive.
Many of these tone words are reinforced in the definitions provided; there are also tone tests, and match up word games so that students effortlessly acquire an analytical vocabulary.
Please purchase the workbook for maximum use.
Go to Lesson 3: The author's words, Exercises 11- 18, pp 18-27
Return to Red Workbook Tasks: an Overview
For Lesson 2 Extension work: See Exercises 7-10
.