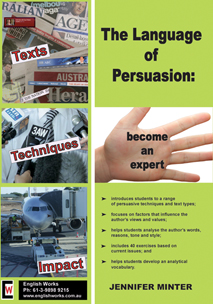 Perfect your Language Analysis Skills
(ISBN 978-0-9924942-8-5)
Years 9 – 10.
Chapter 1 focuses on persuasive and reasoning techniques such as:
the author's views and credentials, their credibility and degree of bias
the author's evidence and reasoning tactics
the author's appeals
the author's choice of words and their implications
an author's tone and style.
Chapter 2 introduces students to a range of media texts and their persuasive features: editorial and opinion pieces (online and print-based); letters to the editor and Your Say comments; cartoons; visual texts, speeches, TV news and radio interviews.
Chapter 3 provides an essay plan and paragraph maps to help students structure their essays. Students will apply the analytical terms they have learnt through the workbook and focus on the main persuasive features as covered in Chapters 1 and 2.
Cost: $22.95 
See (Green) Online Exercise Program: complete the exercises and follow our "responses" to talk the talk and learn the lingo.
Please refer to a Sample of the Exercises and the corresponding Expert Responses.
For an overview, please see the  Slideshow:Become an Expert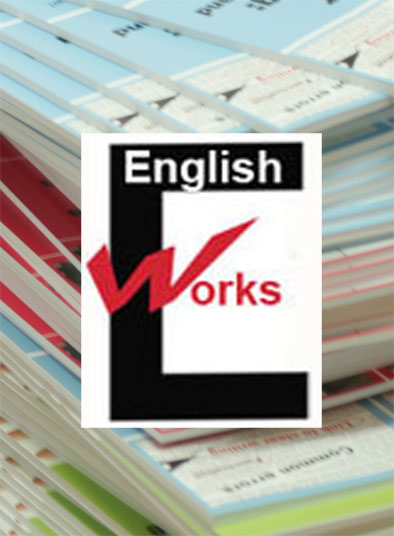 The English Works Pack ($100): Includes:
a copy of each of the five workbooks (Techniques of Persuasion, The Language of Persuasion: become an expert; Arguments and Persuasive Language: an essay-writing guide; Better Essays and Persuasive Techniques and Clear Writing: language and grammar);  Free postage.
"I began using The Language of Persuasion (Become an Expert) in Year 10. It immediately improved my vocabulary and my ability to produce quality analytical pieces – thus providing me with a strong foundation to transition seamlessly into Year 12 English. The books introduced me to metalanguage and analysis techniques in a very coherent and accessible format.  I would wholeheartedly recommend Jenny's resources for students aiming for an A+ grade in Year 12." Brendan L. (44)  (John Monash:  Award for Excellence in English)
Teacher's or Tutor's Pack: 5 copies ($50.00)